Today
my friends, is National Waffle Day.
This day should really be more well known. I mean, waffles are AMAZING! I should know- I had them for breakfast. Did anyone else celebrate this fabulous not-a-holiday-but-really-should-be-one? Shame on you if you didn't.
My dad doesn't cook much. As far as I know, he can only make freezer pizza, mac & cheese from the box, noodles, toast, and waffles. And that's like it. His waffles are actually better than my mother's, and that's really saying something (note to self: get dad's waffle recipe).
Okay this necklace is just adorable.
Waffles are extremely easy to make and don't take that many ingredients. And they are good for any meal- breakfast, second breakfast, elevenses, lunch, afternoon tea, dinner, supper, midnight snack- waffles are the way to go. And they're adorable!
Strawberries do taste excellent on waffles. But waffles taste just as good with just butter and syrup or plain! Or you could eat them like Hatsune Miku- chocolate, strawberries, ice cream, banana, fresh cream, mint, mango, and of course it isn't complete without spring onion sauce! But personally, I'm just going to stick with strawberries.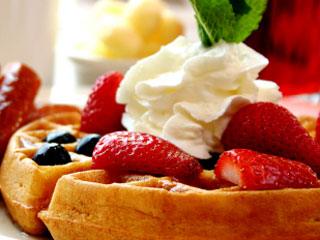 Have a happy National Waffle Day, and for goodness sake, eat
waffles
. Leave the pancakes alone.
xx
Veelacat